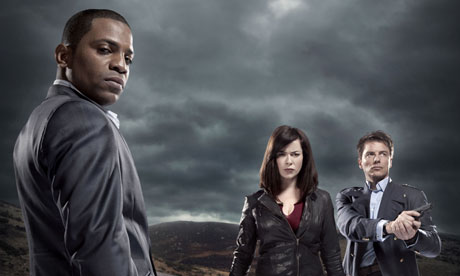 (źródło: guardian.co.uk)

Minęło sporo czasu od mojego ostatniego wpisu na temat Torchwood. Niedawno na ekranach BBC pojawił się sezon czwarty. Tym razem na świecie ludzie przestali umierać. Świat jest przeludniony, za 4 miesiące skończą się wszelkie złoża surowców naturalnych. Ktoś musi stać za tak niezwykłym przedsięwzięciem. Trwa wyścig z czasem, gdy agent CIA, Rex Matheson bada światową konspirację. Odpowiedzi leżą w starym, tajemnym brytyjskim instytucie. Gdy Rex zaczyna pytać, "co to jest Torchwood", zostaje wciągnięty w świat przygody, który zmieni ludzkość na zawsze. 

O dziwo, jest to serial brytyjski, ale jego premiera w Stanach miała miejsce sześć dni wcześniej niż w UK (08.07.11) a na Wyspach zobaczymy go dopiero 14 lipca.  

Jeśli ktoś jest miłośnikiem serii, to z pewnością się nie zawiedzie.
Oprócz głównej fabuły, czeka na nas 10 mini odcinków animowanego spin-offu. Pierwszą część możemy już zobaczyć na YT:

 
ZWIASTUNY: