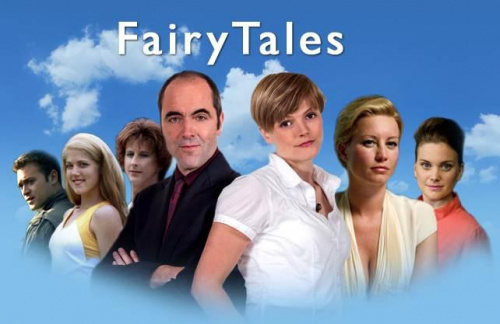 Od dziś, tj. 10 stycznia 2008, stacja BBC 1 wystartuje z emisją serii Fairy Tales( z ang. - bajki), w której przedstawi adaptację czterech klasycznych bajek. Bajki te zostaną ukazane w czasach współczesnych, lecz z zachowaniem tradycyjnego sensu. W skład serii wchodzą: Rapunzel, Cindorella, The Empress's New Clothes oraz Billy Goat.
RAPUNZEL - (emisja 10.01.2008) to baśń Braci Grimm, opowiada o blond piękności zamkniętej w wieży, której bardzo długie włosy pozwoliły księciu wdrapać się do jej komnaty i uratować ją.
CINDORELLA - (emisja 17.01.2008) czyli wszystkim dobrze znany Kopciuszek...
THE EMPRESS'S NEW CLOTHES - (emisja 24.01.2008) równie znane Nowe Szaty Cesarza...
BILLY GOAT - (emisja 31.01.2008) to baśń pochodzenia norweskiego (De tre bukkene Bruse), która opowiada o trzech kozłach, którzy muszą przejść przez most w poszukiwaniu pożywienia, gdyż ich dotychczasowa łąka nie obfituje w trawę. Pod mostem czeka zły troll, który pożera wszystkich przechodzących. Pierwszy zostaje wysłany najmniejszy kozioł nie wiedząc nic o trollu. Gry spotyka strażnika mostu poleca mu poczekanie na następnego kozła, który jest większy, a kiedy przychodzi ten drugi, on również poleca trollowi, by poczekał na kolejnego, gdyż jest największy ze wszystkich. Ostatni kozioł rozprawia się z przeciwnikiem wrzucając go do rzeki dzięki czemu wszyscy mogą spokojnie korzystać z nowo znalezionych terenów. Ta bajka to oczywiście symbol walki dobra ze złem, niedojrzałości, braku wiedzy i doświadczenia, oraz mądrości i bohaterskich czynów.
W rolach głównych wystąpią:
Bernard Hill, Geraldine James, Shaun Williamson, Lee Ingleby, Charity Wakefield, James Nesbitt, Maxine Peake, Charity Wakefield, Denise Van Outen, Hariett Walter, Liz White, Mathew Horne, Paul Nicholls, Sarah Smart