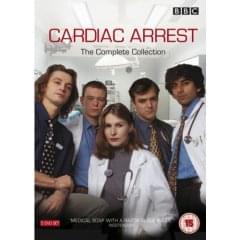 Kolejny serial medczny, który przywołał chaos oraz czarny humor życia w brytyjskim szpitalu. Produkcja ukazała starszych lekarzy, którzy bardziej zainteresowani są uzgadnianiem partyjek golfowych niż swoimi pacjentami czy stażystami. Nie zabrakło plotkujących pielęgniarek wymigujacych się od obowiązków oraz mających obsesje na punkcie przespania się z najseksowniejszymi lekarzami. Pojawią się również rozczarowani i wyczerpani stażyści dający sobie radę dzięki wódce i żartom. Serial był zarówno wychwalany, jak i potępiany przez towarzystwo medyczne. Widzowie po niedługim czasie wzięli sobie tę produkcję do serca.
Razem powstały 3 sezony serialu. Pierwsza seria to 6 odcinków, druga to 8, a ostatnia liczy aż 13 epizodów. Twórca tego serialu po latach zajął się realizacją kolejnego kontrowersyjnego obrazu- Bodies.
Mówi się, że na podstawie Cardiac Arrest powstły późniejsze hity seriali medycznych takich jak: House MD ("Doktor House") oraz Grey's Anatomy ("Chirurdzy").
OCENA NA IMDB.COM: 9,8/10