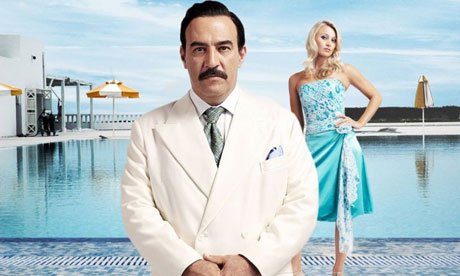 foto: guardian.co.uk
"House of Saddam" (Dom Saddama), serial o tyranicznym dyktatorze i jego najbliższym otoczeniu zostanie wyemitowany w Polsce. Od  4 lipca, o godz. 22:00 produkcję będzie można zobaczyć w polskim HBO.

House Of Saddam to porywający cztero-odcinkowy serial kanału BBC Two, który opowiada historię Iraku podczas rządów Saddama Husseina od 1979 roku do jego upadku i egzekucji w 2006.
Produkcja skupia się na życiu najbliższej rodziny Saddama oraz kilku osób z elit politycznych. Bliski portret kręgu wtajemniczonych Saddama przedstawia wzloty i upadki jedengo z najstraszliwszych reżimów na świecie.
Główna obsada:
Igal Naor (Rendition, Munich) jako Saddam Hussein
Said Taghmaoui (Vantage Point, The Kite Runner, La Haine) jako Barzan Ibrahim, brat Saddama oraz reprezentatn Iraku w ONZ.
Shohreh Aghdashloo (House Of Sand And Fog) jako Sajida Talfah, żona Saddama.
Christine Stephen-Daly (The Bill, Cutting It, Casualty) jako Samira Shahbandar, kochanka Saddama i jego druga żona.
Uri Gavriel (The Kingdom) jako Ali Hassan Al Majid, znany bardziej jako Chemical Ali
Amr Waked (Syriana) jako Hussein Kamel, bratanek Saddama.
Makram J Khoury (Munich, The West Wing) jako Tariq Aziz, Minister Spraw Zagranicznych oraz Premier Iraku.
Philip Arditti (10 Days To War) jako Uday, najstarszy syn Saddama
ZWIASTUNY
xp3btk69fm