Oglądając niektóre seriale natrafiłem kilkakrotnie na powtarzające się grupy aktorów. Nie ukrywam, że
część produkcji obejrzałem jedynie ze względu na obecność tych aktorów. Pierwszym duetem, który mnie zachęcił do śledzenia przygód inych postaci, w które wcieliły się te same znane twarze, jest John Simm oraz Philip Glenister. Z tego powodu chciałem przedstawić filmy i seriale, w których wymienieni aktorzy spotykają się na planie, a ich bohaterowie powiązani są fabularnie.
1. Przedstawiona obok dwójka chyba najbardziej znana jest z Życia na Marsie (Life on Mars). John Simm gra nadkomisarza Sama Tylera, który w wyniku wypadku trafia do roku 1973, a jego szefem jest grany przez Philipa Glenistera - Gene Hunt. Obaj aktorzy świetnie wypełniają swoje zadanie. Przedstawiają dwa odmienne charaktery, ale sprawiają, że widz darzy obydwóch równą sympatią.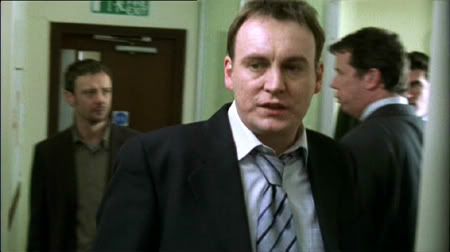 2. Kolejnym tytułem są Rozgrywki (State of Play). Tym razem aktorzy nie grają głównych ról. John jako Cal jest dziennikarzem i dobrym znajomym głównego bohatera. Natomiast Philip ponownie gra policjanta, nadkomisarza Williama Bella.
3. Kolejny serial to Clocking Off . Glenister gra szefa firmy tekstylnej, a Simm wciela się w postać kierowcy, który odnajduje się po 18 miesiącach zaginięcia.
4. Tym razem aktorzy spotykają się na planie filmu Tuesday. Co stanie się gdy trzy grupy postanowią obrabować jeden bank w ten sam dzień? Odpowiedź można znaleźć w tym obrazie.
Niestety, zmuszeni będziemi nieco poczekać, gdyż film znajduje się w fazie post-produkcji, a nie ogłoszono daty premiery.
John Simm i Philip Glenister w Rozgrywkach:
Aktorzy w Życiu na Marsie: