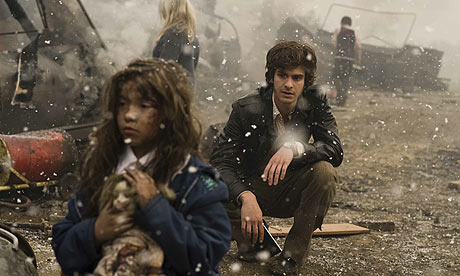 Trylogia kryminalna zaczyna się w 1974 roku. Dziennikarz, Eddie Dunford (Andrew Garfield) z prasy w Yorkshire zostaje przydzielony do sprawy zaginionej dziewczynki. Razem z lokalną policją Eddie wplątuje się w serię brutalnych morderstw. Chłopak jest bardzo ambitny i uparcie dąży do celu jakim jest napisanie prawdziwej historii. Nie rezygnuje z tematu mimo ostrzeżeń ze strony różnych osób. W trakcie własnego dochodzenia dowiaduje się, że ostatnio zaginiona dziewczynka nie była jedyną, która znikła na tym terenie. Dziennikarz szuka powiązania między zagubionymi. Eddie zaczyna się bać o swoje życie, kiedy jego kolega po fachu zostaje zamordowany, a jego śmierć upozorowano na wypadek. Im głębiej chłopak szuka informacji, tym więcej osób chce się go pozbyć. Kiedy na terenie budowy należącym do jednego z bogaczy odnalezione zostają zwłoki jednej z dziewczynek, sprawa nabiera tempa, a osoby z nią powiązane okazują się być na wysokich szczeblach władzy. Eddie wpada na trop konspiracji i korupcji.
Red Riding to bardzo dobry kryminał. Nie ma tu co prawda zaskakujących wyników ekspertyzy sądowej, ale mamy za to głęboką psychologię postaci. No i oczywiście świetny klimat lat 70-tych. W obsadzie pojawiają się sławne nazwiska takie jak chociażby: Sean Bean (John Dawson), Mark Addy (John Piggott) i David Morrissey (Maurice Jobson).
Część pierwsza,1974, trwa 100 min. Nadana została 5 marca na Channel 4.
Ocena części pierwszej: 7/10

Poniżej fragmenty produkcji i zwiastun: